Dental Bridges – Garland, TX
Durable, Lifelike, and Effective
Tooth loss is something roughly 178 million Americans struggle with. If you're one of them, then you'll be happy to know that there are several tooth-replacement options available, each durable, lifelike, and effective. Depending on your unique dental needs, our Garland dentist will recommend the best one. If you're missing one tooth or several teeth in a row, then a dental bridge may be the ideal solution for you! To learn more about this smile-rebuilding solution, keep reading or get in touch with our team to schedule an appointment.
Why Choose Town Center Dental for Dental Bridges?
Skilled Dentist with 15+ Years of Experience
In-House Digital Impression System Used
Early Morning, Evening, and Lunchtime Appointments Available
What Is a Dental Bridge?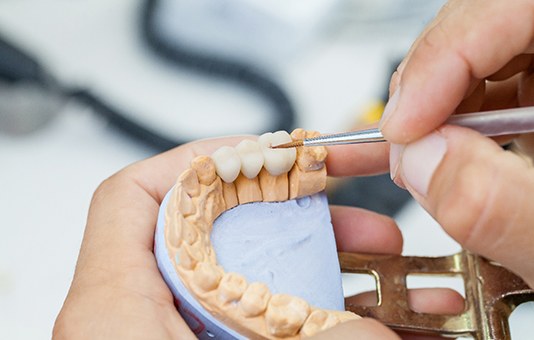 Dental bridges are one of the most common tooth-replacement solutions, but how exactly do they work? In short, they are designed to replace one missing tooth or several consecutive missing teeth. To do so, dental crowns or dental implants anchor each side of the gap, and the pontics (the replacement teeth) "bridge" the opening, hence the name.
Types of Dental Bridges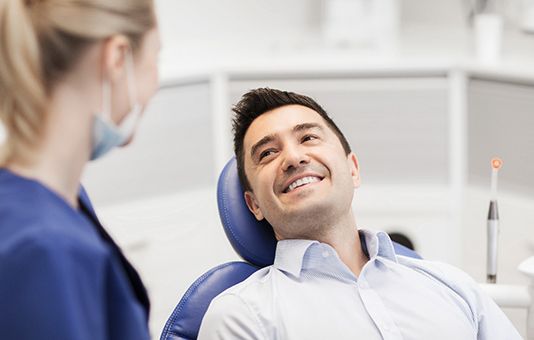 As previously mentioned, dental bridges can be anchored in place with either dental crowns or dental bridges. Our team at Town Center Dental is proud to offer both! Here is a little more information about each option:
Traditional Dental Bridge
To fill the gap in your smile, traditional dental bridges use dental crowns. Although this requires some of your enamel to be removed, this tooth-replacement solution is both durable and lifelike. So, you can rebuild your smile and bite without calling any unwanted attention to your teeth!
Implant Bridge
As you might have guessed from the name, implant bridges use dental implants as anchors instead of dental crowns. There are two benefits to this service: it can last for 20+ years with proper care and your natural teeth don't need to be altered in any way.
The Benefits of Getting a Dental Bridge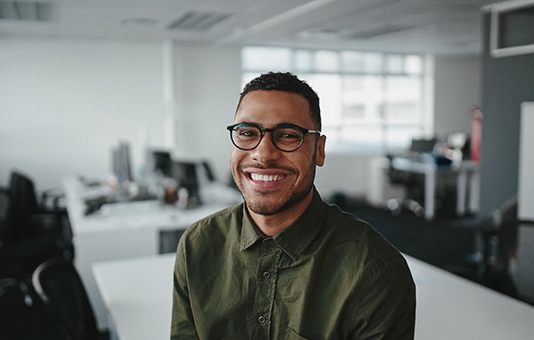 Fortunately, there are several benefits that come with dental bridges, including the fact that they:
Help maintain the alignment of your existing teeth
Make brushing and flossing easier
Preserve your jawbone to prevent bone loss
Can last for 15+ years with proper care
Are custom-made to look and feel natural
Are easy to maintain
If you'd like to learn more about dental bridges, don't hesitate to reach out to our team so we can help you!
Dental Bridges FAQs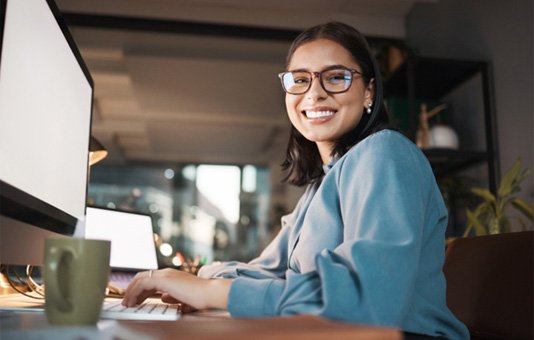 Are you interested in getting a dental bridge in Garland to replace your missing teeth, but still have some questions about the process? Our friendly team at Town Center Dental is here to give you the answers you need to make the best decision for your smile. Below, we've compiled a list of common questions we receive from our patients about this service as well as our answers. If you still don't see what you're looking for, please give us a call !
Can you take a dental bridge out?
Dental bridges are designed to stay affixed to your teeth permanently until they need to be replaced and you should never try to remove a bridge on your own. Some people call partial dentures "removable bridges," but this isn't an accurate representation of the type of prosthetic they are since bridges cannot be taken out of the mouth, but partials can.
What materials are dental bridges made of?
Dental bridges in Garland can be made from a variety of materials based on your wishes. Typically, they're crafted from the same materials as crowns, like metals, ceramic, and porcelain. Ceramic and porcelain are natural-looking materials that blend in with surrounding teeth, making them a popular choice among patients. The material that works best for you will depend on your specific needs, and working with your dentist in Garland to decide the type of bridge you'll get will ensure your satisfaction.
Does getting a bridge hurt?
Before preparing to place your bridge, your dentist will make sure that you can't feel a thing by numbing the area they'll be working on with a local anesthetic. Our team will anchor your prosthetic by removing the surface of your abutment teeth to support the dental crowns on either side of your bridge and anchor it within the mouth. For the next several days after your appointment, we may recommend taking over-the-counter pain medication to ease any sensitivity that you may feel. However, any discomfort should get better with time, eventually going away.
How long should my dental bridge last?
The average lifespan of a dental bridge is between five and 15 years, depending on the material it's made from and your oral health and hygiene. Typically, porcelain fused to metal and metal bridges have the longest lifespan due to their durability, but ceramic and porcelain crowns offer both durability as well as aesthetic brilliance, making them the best options for most of our patients. Plus, with the proper care, like routine checkups and cleanings, quitting bad oral habits like smoking and nail-biting, and a well-balanced diet, you can increase their lifespan dramatically.