Tooth-Colored Fillings – Garland, TX
Address Decayed Teeth Without Drawing Attention to Them
In the past, dentists would use noticeable metal fillings to treat teeth with cavities. Not only were they highly noticeable and detracted from patients' natural, healthy teeth, but they also resulted in unwanted side-effects like dental discoloration and sensitivity. Fortunately, when you come to Town Center Dental, you don't have to worry about Dr. Knott, your dentist in Garland, placing a less-than-appealing filling in a tooth because we use natural-looking composite resin to treat cavities!
Why Choose Town Center Dental For Tooth-Colored Fillings?
In-Network with Most PPO Plans
Same-Day Emergency Appointments
Locally Owned & Operated Dental Practice
What are Tooth-Colored Fillings?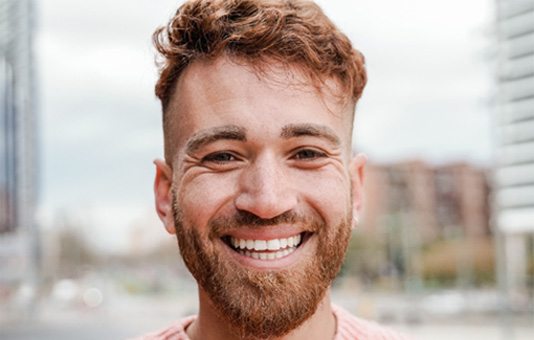 Tooth-colored fillings are made from a biocompatible composite resin that can be custom-shaded to match the color of surrounding teeth. Not only is it safer to use, but it's also more effective because it's able to bond with your tooth's enamel, completely sealing it off from harmful oral bacteria. Thanks to its biocompatibility, we're also able to remove less of your tooth's natural structure, making it minimally invasive.
The Process of Getting a Tooth-Colored Filling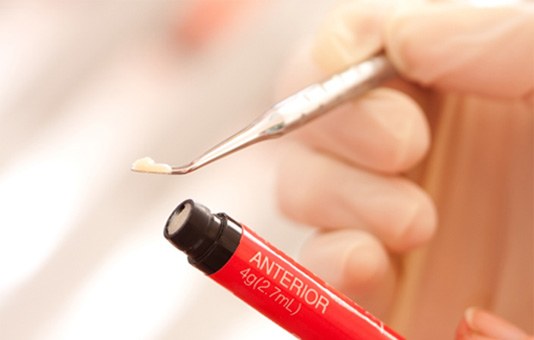 If our team sees that you have a cavity, we'll likely recommend a tooth-colored filling in Garland to repair and protect it. If the cavity is larger or you have sensitive teeth, we'll numb the area first with a local anesthetic so you don't feel any discomfort throughout your treatment.
Dr. Knott will thoroughly clean the decayed tooth, removing any debris or dead structure, and sanitize it to ensure that no bacteria remain before filling it. She'll then match the shade of the resin with your enamel and place it in the tooth to seal off the cavity. To harden the resin, she'll shine a UV light on it for a few seconds. This will allow it to last for several years to come.
The Benefits of Tooth-Colored Fillings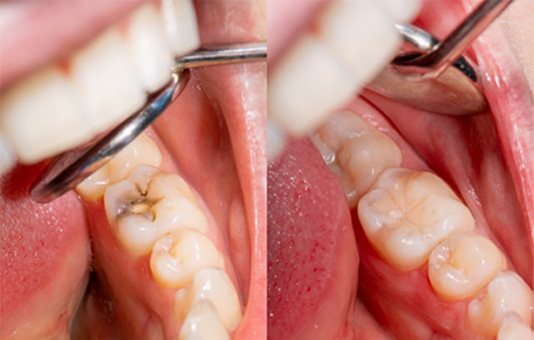 There are several benefits of receiving tooth-colored fillings instead of metal ones besides its highly aesthetic appearance, some of which include:
Preserve Your Natural Tooth Structure.With metal fillings, more of the natural tooth's structure needed to be removed to accommodate it. However, because composite resin fuses with the enamel of your tooth, our team will need to alter your natural tooth less.
Less Temperature Sensitivity.Metal conducts heat very well, and even though your natural tooth insulates the nerve from temperature changes, this material can still cause sensitivity. Composite resin will block your tooth from hot and cold, more effectively preventing uncomfortable tooth sensitivity.
Reduce Your Risk of Future Decay.Since composite resin is able to fuse with your enamel, it can seal it offer more effectively, preventing a simple cavity from progressing into a serious tooth infection.
At Town Center Dental, we place tooth-colored fillings every day, so trust us when we say that we'll have your smile looking and feeling healthier than ever when you see our team for your next cavity treatment or checkup and cleaning!