Dental Implants – Garland, TX
When Permanence is Preferred
Dental implants are viewed as far superior when compared to traditional dental bridges and dentures. Known for their longevity, functionality, youthful aesthetics, and permanence, millions of people have found them to be a worthwhile investment. With more than 500,000 being placed each year, you can enjoy a better-quality smile, too! Contact Dr. Knott to learn if you're a qualified candidate for tooth replacement, using dental implants in Garland, TX!
Why Choose Town Center Dental for Dental Implants?
Dr. Knott Places Implant Crowns, Bridges, and Dentures
Works with Area Specialists for Implant Placement
Compassionate Team That Remains by Your Side
What are Dental Implants?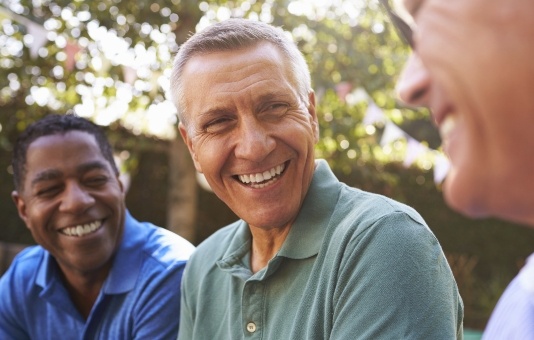 Dental implants are titanium posts that are placed within the jawbone. Made of a material that successfully fuses to the bone, they mimic the tooth's root and are the only tooth replacement solution with this characteristic. Once a customized restoration is applied, the entire structure looks just like a regular tooth, making it nearly impossible for others to distinguish the difference between real and artificial teeth.
The 4-Step Dental Implant Process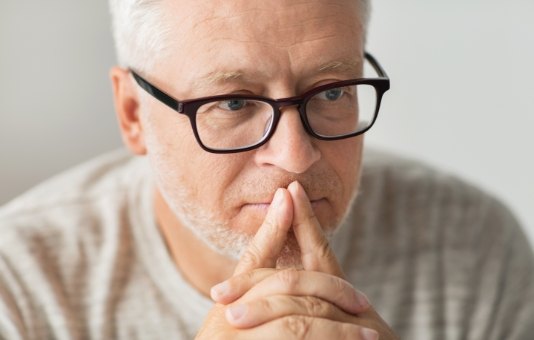 The process required for dental implants is lengthy and requires patients remain committed. Learning how dental implants work means discussing the steps with Dr. Knott during your initial consultation. Although no two patients can expect the same results, the process remains the same for anyone choosing to move forward with dental implant placement: initial consultation, dental implant surgery, osseointegration, and delivery of the custom restoration.
Initial Dental Implant Consultation: You will meet with your implant dentist to discuss your eligibility and whether you require preliminary treatments.
Dental Implant Surgery: A local surgeon will place your dental implants after administering local anesthesia.
Dental Implant Osseointegration/Abutment: You will spend 3-6 months at home recovering while allowing osseointegration to occur.
Delivery of Dental Implant Restoration(s): Once you are fully healed, you will return to our dental office to receive your customized implant crown, bridge, or denture.
Benefits of Dental Implants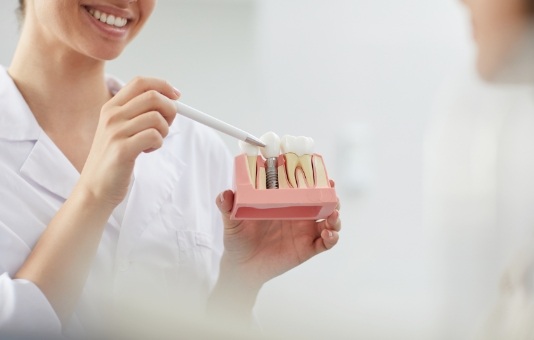 The benefits of dental implants are endless. Unlike bridges and dentures, these prosthetics make it possible to live life to the fullest and enjoy a smile that can last a lifetime with proper care. Not to mention, you can eat your favorite foods, feel confident about your appearance, and save money in the long run! With dental implants, you can smile more and worry less!
Who Dental Implants Can Help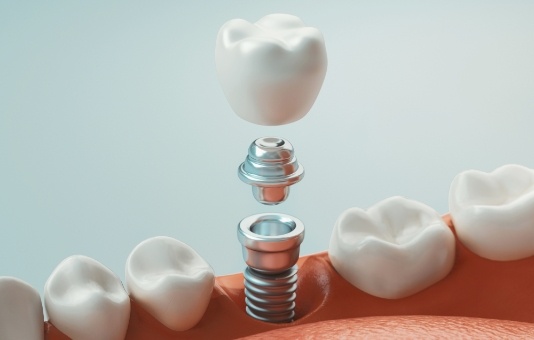 Most adults who are suffering from tooth loss are eligible to receive dental implants. The only caveats are that the individual has good oral and overall health and enough jawbone to adequately support the implants and customized restoration. If preliminary treatments are necessary, Dr. Knott will recommend you for appropriate treatment (i.e., bone grafting, periodontal therapy, tooth extraction). However, if you're cleared by our dental team, you can prepare for your upcoming oral surgery.
Missing Single Tooth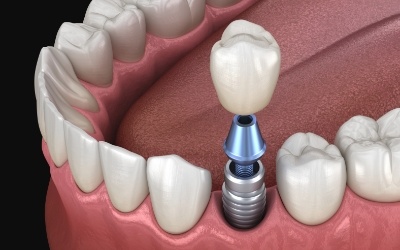 Although there are millions of people living with a single missing tooth, you can use a single dental implant post, a metal abutment, and a customized dental crown to fill in the gap in your smile. Instead of relying on a dental bridge, you can avoid altering your healthy teeth and instead, focus on replacing the vacated socket with a stronger, more stable tooth.
Missing Multiple Teeth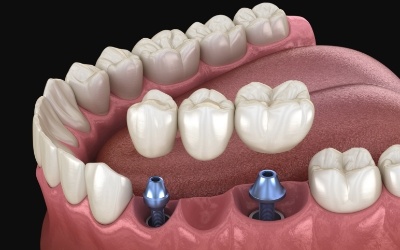 If two or more teeth are missing along an arch, our team will recommend an implant bridge. Using a similar prosthetic as a traditional bridge, the device will consist of fused dental crowns. The only difference is the outer crowns will rest on top of two dental implants while the rest remain on top of the gums. This not only provides stimulation to your jawbone but also fills in the incomplete areas of your smile.
Missing All of Your Teeth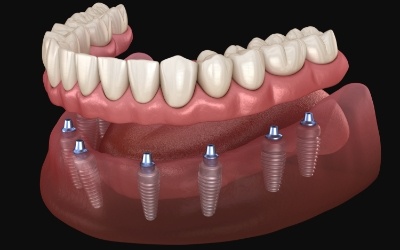 A traditional denture no longer has to be your only option when faced with an entire row of missing teeth. Instead, an implant denture can be a viable solution that provides lasting benefits. Using between four and six dental implants, we can attach a customized denture, allowing you to regain functionality and embrace a fuller, more youthful appearance.
Understanding the Cost of Dental Implants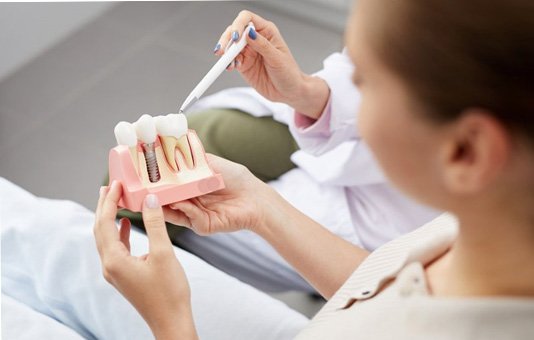 Maybe you're convinced that dental implants are effective. After all, studies show that their long-term success rate is over 95%! However, you may worry the cost of dental implants in Garland is too high. Even if you want treatment, then, perhaps you can't get it due to the price. In truth, though, implant surgery's cost varies from patient to patient. Therefore, you can only get a treatment estimate at a consultation. Still, whatever the estimate, you can trust Town Center Dental to give you affordable care. To learn more about implant financing, just keep reading or contact us for details!
Preliminary Treatments & Dental Implant Surgery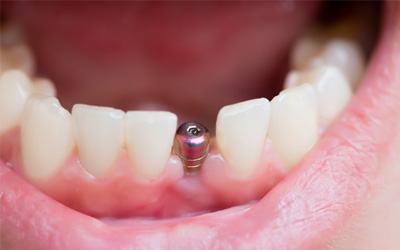 Before anything else, consider whether you'll need preliminary treatments before implant surgery. Things like gum disease therapy, tooth extractions, or bone grafting will add to your overall expense. You shouldn't skip them, either, as these services can maximize your new smile's success. Thankfully, these services are often covered by dental insurance.
As for implant placement, this surgery incurs its own cost, depending on your issue. In particular, it'll cost more or less based on where the implants are placed in the jaw and the kind of sedation used.
The Parts of Your Dental Implant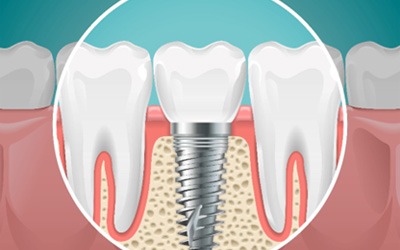 Even the actual material implants impact your treatment estimate. More specifically, the aspects of them that influence cost include:
Implant Number: One dental implant, for example, will cost less than 4-6 for an implant denture.
Implant Size or Material: Some implants are made longer or shorter depending on placement and the patient's jawbone. Similarly, labs make a few out of zirconia instead of titanium.
Implant Brand: In reality, different manufacturers make dental implants differently. By doing so, they're able to meet various patients' unique needs.
How Dental Implants Can Save You Money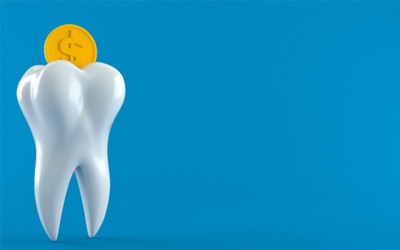 Even if dentures or bridges tempt you, dental implants are the most cost-effective option. That being the case, you'll save money by choosing the latter option.
For one thing, implants don't need frequent replacement or adjustment. Their features give them an average lifespan of 15-20 years! As such, a patient's implants can often tide them over for life. To make a long story short, these restorations don't need costly follow-up procedures.
Furthermore, implants prevent oral health issues that require expensive treatments. Studies show they'll hold back conditions like gum disease, tooth decay, and more.
Does My Dental Insurance Cover Dental Implants?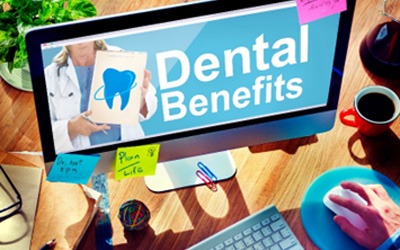 Dental insurance doesn't usually cover dental implants. Still, there are exceptions — some plans offer coverage if the new teeth have sufficient health benefits. Therefore, contact your plan provider to confirm where your policy stands. Our team will even help you do so, as we have years of experience maximizing benefits.
Making Dental Implants Affordable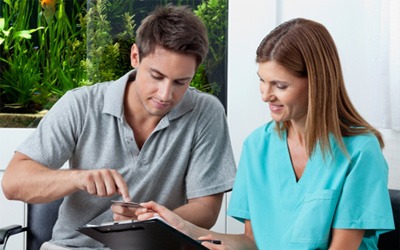 Of course, there's a chance you don't have dental insurance. Even if that's the case, though, our office has other ways to make implants affordable. These methods include:
In-House Membership Plan: Our office can give you a 25% discount on dental implants for a low monthly fee.
CareCreditFinancing: By working with the third-party service CareCredit, we can let you pay for treatment in monthly installments. That way, you could cover the cost of implants over time instead of all at once.